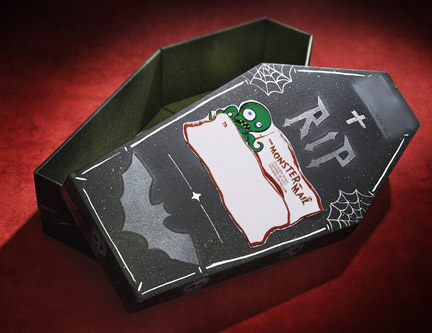 Get a 6 x 9 piece of original art delivered to you in a 18" coffin!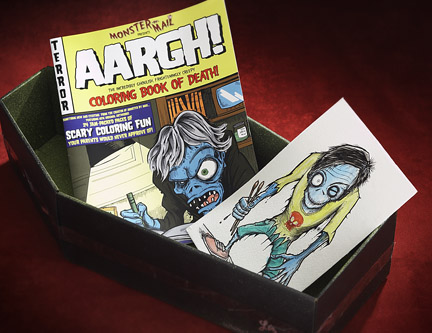 Included in the package is a signed copy of the Official Coloring Book along with your commissioned piece of art!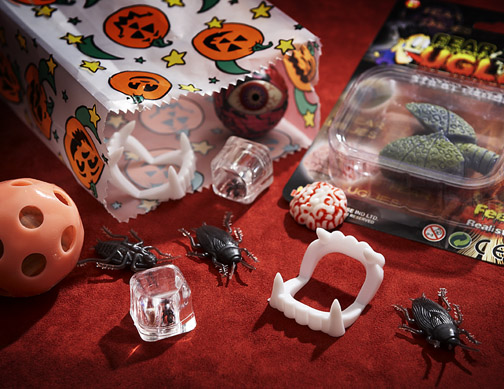 Each coffin comes with an assortment of weird, spooky toys!




Halloween is almost upon us! And to celebrate Monster By Mail is having an auction of limited edition original art to die for!
Starting September 14, 2007, I will be auctioning off a limited number of opportunities to commission an original 6 x 9 Monster By Mail piece of art. Each day, a few new auctions will be posted to Ebay. And if you're a fan of original monster art, then prepare yourself for something that's never been seen before in art history.*
So What's The Deal?
Monster By Mail is all about original art. And that's exactly what you'll get with these auctions. If you win one of the 31 auctions, you'll not only win the opportunity to commission me for an original 6 x 9 piece of art, but your art comes delivered right to your doorstep in an 18" tall hand-crafted coffin! Each coffin is a guaranteed original -- handmade, signed, numbered and painted by goth and rockabilly artist, Liz Rosino of Lucky Kat.
Here's a rundown of what's included in each auction:
Start bidding right now! Auctions appearing daily!





All in all, there are 31 chances to win- one for each day of October! Three to four auctions will be put up each day, so bid often and bid early!
*This might be a small exaggeration for effect. But can you blame me?
To take part in this auction, you need a verfied Ebay account. Payment must be made via Paypal before I start the art. I reserve the right refuse any commission. Shipping will be done priority mail, so you should get your art well before Halloween. There are only 31 of these being offered, so get in there!If you have any questions about this auction, e-mail me!